Hyundai Motor precarious workers need YOUR help! Sign White House petition TODAY!
페이지 정보
작성자

최고관리자

작성일

17-08-07 18:40 조회8,374회
본문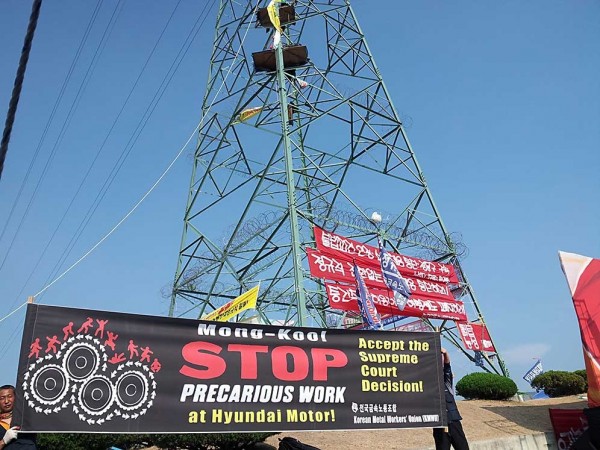 Precarious workers belonging to the KMWU Hyundai Motor Ulsan Irregular Workers' Local have been calling on corporate magnate and chairman of Hyundai Motor Company, CHUNG, Mong-Koo, to accept the Supreme Court ruling and regularize the status of the precarious workers in Hyundai Motor Company facilities.  Hyundai had appealed the landmark Supreme Court ruling of 22 July 2010, but precarious worker, CHOI Byeong-seung won the final and definitive decision of 23 February 2012.
The precarious workers have been carrying out strikes at Hyundai Motor in Korea and protest actions, symbolized by the aerial protest of successful supreme court case plaintiff CHOI and the general secretary of the KMWU Hyundai Motor Ulsan Irregular Workers' Local, CHUN, Ui-bong. The two have been occupying a 50 meter high, 154,000 volt electricity transmission tower in minus 25 degrees celcius weather since 17 October 2012 in an aerial protest to call on Hyundai Motor to regularize the precarious workers' status to regular, fulltime workers.
Please sign the petition to ask the White House to take a stand on Hyundai Motor Chairman CHUNG, Mong-Koo's non-compliance with the Supreme Court precarious workers' ruling. If we can achieve 25,000 petitions between 10 January 2013 and 8 February 2013, the Obama administration will need to take a stand on this crucial struggle of precarious workers to seek accountability from the transnational corporations using illegal work arrangements to circumvent responsibility for their employees.
Not familiar with signing White House petitions? Click the link below for the "How to" pdf, and follow the instructions~
Thank you for your concern!
http://kmwu.kr/en/wp-content/uploads/2013/01/5a0169504d5b0bd403b390d4837b85702.pdf